Collaboration with Discovering Hands, Abilis Foundation and Mediciti Hospital for developing Tactile Breast Examiners:
Breast cancer is the most common disease for Nepalese women particularly in the remote area where the outreach health services are insufficient.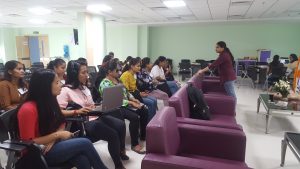 ADRAD is functional to adopt the philosophy of "Discovering Hands" which is an innovation of engaging blind and visually impaired women for early detection of breast cancer as Tactile Breast Examiners (TBEs), in supervision of the Gynecologist.
This innovation is very encouraging in the Nepalese context for employing Blind women as paramedical and build public awareness on the issue that "Women are employed not despite their visual disability, but because of their capability."
While the founder of ADRAD and country coordinator of Abilis foundation Dr. Birendra Raj Pokharel met Dr. Frank Hoffmann, CEO     & Founder of Discovering Hands during the Zero project conference 2019 in Vienna, he determined to explore this innovative practice in Nepal. He established collaboration with Mediciti Hospital and Abilis Foundation for engaging Blind women in detecting breast cancer as "Tactile Breast Examiners".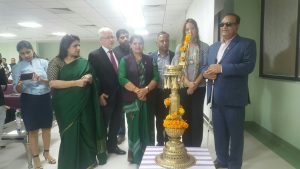 The "Tactile Brest examination" is the new concept in Nepal where Blind women will be engaged as paramedical after getting vocational training. At present, there are 3 women with visual disabilities are undergone training in NAB, New Delhi, India. There is strong commitments of Mediciti hospital to provide job for the skilled Blind women and to establish the center.
ADRAD has adopted the innovation of engaging Blind women for the "Tactile Brest Examination". The cancer hospitals will collaborate with ADRAD for further skilled Blind women who can be engaged as "Tactile Brest Examiners". This innovation helps both ways, engaging women with visual disabilities in the decent employment and also to facilitate the broader community particularly adult women for screening their Brest to avoid complications of Brest cancer identifying the lumps in the early stage.
Discovering Hands describes itself as a "social" enterprise that connects new avenues of decent employment of women with visual disabilities and approach with growing support within the medical arena for cancer detection of broader community of women.
Being a Rotarian, Dr. Birendra Raj Pokharel intent to transform a perceived "disability" into a capability and simultaneously make a valuable contribution to enhancing the range of professional opportunities for visually impaired women, while improving health care services to the women in the society adopting principles of discovering hands.